Give Your Prospective Customers More...
Show Them

Why

They Should Visit Your Business
As an agency that preaches the importance of providing quality content to your prospective audience, we knew that becoming a Google Street View Trusted Photographer would give us an opportunity to reach more community based businesses and help them provide transparency to people searching for their products & service on search. Watch this quick video to learn more...
Call For A Quote
How Does It Work?
First we start with making a plan. This is where we learn more about and get a look at the layout of your business.
Lighting
During our walk through of your business, we will identify areas of weak or aggressive lighting so we can make adjustments the day of our shoot.
360° Photo Shoot
Once we have our plan for the layout and lighting we are all set to take the photos. The best time for a shoot will be determined at the time of the initial walk-through.
Editing & Upload to Google
Once we've completed the photo shoot at your business, we then upload all of the 360° photos to our editing software where we will make the necessary quality corrections and stitch them together to create the VR tour before launching them live onto your Google Local Listing.
Delivery
In addition to launching your 360° photos / VR Tour on Google, we will provide you with a file including all of the individual 360° photos. In addition, we will upload your photo tours as needed onto your own website to display to all your visitors.
Our 3D Virtual Tours Offer An Immersive Experience That Will Delight Your Visitors
Recent

3D Real

Photo

VR Tours
Hire a Trusted & Proven Professional
Over

5

Million Views on Google For Our Clients!
As a Trusted Partner of Google, we can expedite the process of getting your business the additional exposure that comes from launching quality 360° photos and virtual tours of your location(s). We earned our ``trusted`` status by helping many other businesses do the same thing. Check out some of our work below...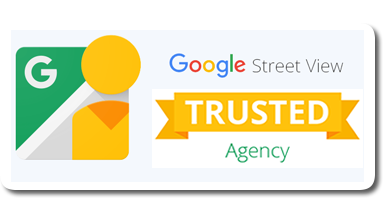 Clients Have Experienced Thousands of Views in Just a Few Days After Launching to Google
Check Out Some Of Our

Recent

360°

Photos

& VR Tours